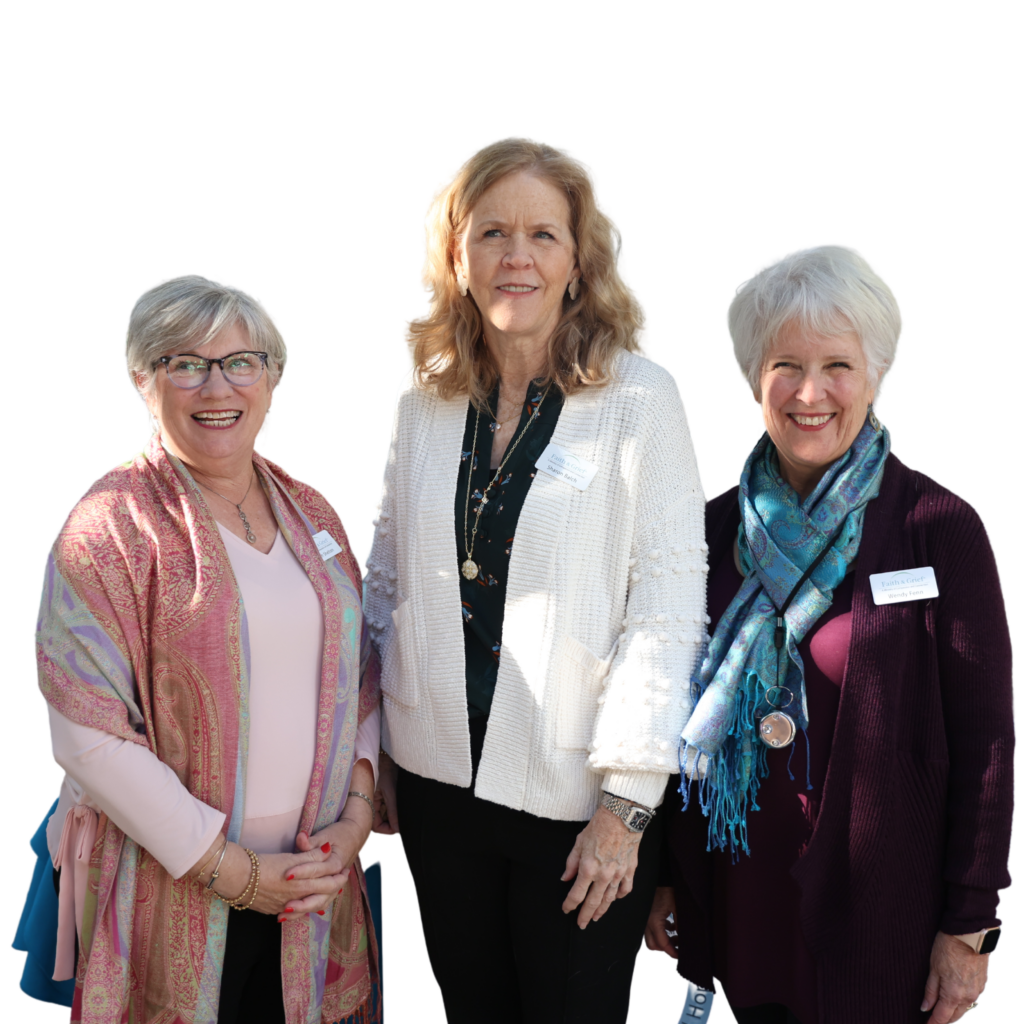 Our Story
Our mission is to provide opportunities for comfort & hope to those who have experienced the death of a loved one.
In 2007, the Reverend Wendy Fenn served as spiritual director at Faith Presbyterian Hospice and the Reverend Dr. Fran Shelton served as associate pastor for congregational care at Preston Hollow Presbyterian Church. These two Presbyterian pastors met through their extensive ministry and service to individuals and families who were in the process of grief and mourning. Both desired to offer comfort and encouragement to those they encountered. In addition, both were eager for congregations and faith-based service organizations to work collaboratively rather than competitively.
Their collaborative work, approved and supported by their employers, enabled the launch of Faith & Grief Luncheons on April 15, 2008, at Preston Hollow Presbyterian Church in Dallas, Texas. The Reverend Dr. Blair Monie, PHPC's senior pastor at the time, served as liturgist. Alice Court spoke honestly about her bewilderment and intense anger that encircled her grief related to the death of her 17-year-old son, Brendan. Sharon Balch joined the founding team shortly thereafter to focus on the administrative responsibilities of the orgranization. Since then, we have hosted hundreds of support luncheons, now called support gatherings, and thousands of people have gathered and shared their stories of grief and healing.
Our co-founders regularly met to share their faith and their experiences in serving those in the process of grief and mourning. They agreed to design a model of bereavement which would contain the following components of faith and understandings:
Our faith traditions and beliefs are a source of comfort and strength. All faith traditions value grief and the importance of rituals as we mourn.
Grief is both a leveler and a uniter, bringing together persons from diverse faith traditions and backgrounds.
The pain of grief is intense and lingering, calling for on-going support.
Personal stories possess the power to inspire and encourage.
Fellowship and the breaking of bread provides comfort.
Hope can be present in community with others on a similar journey of grief, both online and in person.