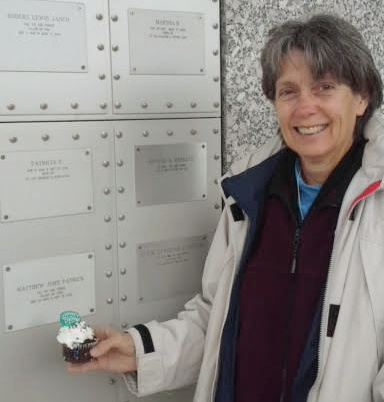 Beverly Patrick is a long-time participant in our Faith & Grief Gatherings in Dallas, usually at Preston Hollow Presbyterian Church, where she is a long-time member. She is also asked periodically to share her story with other Gatherings around town, as her grief and the shock she has experienced is something most of us can only imagine. Beverly's son died by suicide in September 2012 as a senior cadet at the U.S. Air Force Academy. Matthew was brilliant, loved to give to others, was a kind and gentle soul, mischievous at times, and took commitment seriously. He was loved beyond measure by his family and friends. 
Several months after Matthew's death, Beverly attended her first Gathering at Preston Hollow and found a safe place to shed tears and express her emotions. She says it was the first "God Moment" in her journey. The small group made her feel welcome and cared for, and the facilitator was excellent.
During the succeeding years, Beverly has generously volunteered as a speaker and liturgist coordinator at Preston Hollow Presbyterian Church for our Gatherings; she welcomes visitors every year at the Memorial Arch in Klyde Warren Park and was a docent during the exhibit or our River of Time art piece at the Crow Museum of Art in downtown Dallas two years ago. When asked what serving means to her, she said, "It brings so many "God Moments" into other people's lives, and I feel as if I am receiving so much more than I'm giving." 
Even though she is a busy wife, mother, a daughter to her elderly father, as well as working full time as a trust officer at a large bank, Beverly believes it's essential to slow down sometimes and step into your emotions; take time to cry and experience those emotions we keep at bay.  She also says when a child dies, your greatest fear is that they are somehow forgotten – so you want to remember them, to say their name. By volunteering at the Faith and Grief Memorial Arch, Beverly helps others do just that; she helps them write the names of their loved ones on the ribbons. 
The honoring and the remembering of those we've lost shall never be forgotten.